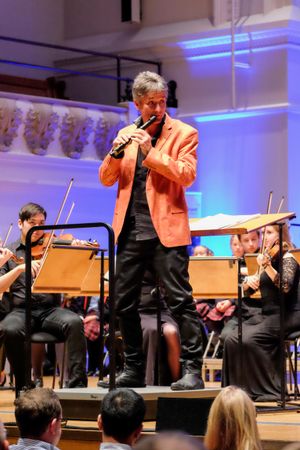 BIOGRAPHY
Piers Adams is one of the greatest recorder players of our age, recognised for his "astonishing, all-out virtuosity" (New York Times), breadth of repertoire and uniquely compelling style, boldly transcending traditional limitations and presenting the recorder as a major-league instrument for the 21st century concert platform. 
Assisted by the latest innovations in recorder-making - notably the massively powerful and expressive voice of the Eagle Recorder - Adams presents his craft through a wide range of concert and recording activities: his world renowned baroque quartet Red Priest, whose latest CD reached No. 1 in the UK classical charts, duos with keyboardist Lyndy Mayle and harpsichordist David Wright, concertos with orchestras across the globe, gala concerts for children and festival gigs with the Dodo Street Band. 
Born on the Winter Solstice in 1963, and brought up in England's Thames Valley, Adams initially considered a career in science, gaining a BSc in Physics before realising that his destiny lay elsewhere, and he embarked on a period of study with some of the leading players of the day, including Dutch pioneer Kees Boeke, winning numerous awards and competitions along the way.  But he was quick to forge his own path, his natural performing flair at odds with the restrictions and traditions of the early music scene. 
It was a chance encounter with a group of Hungarian gypsy musicians, whilst taking part in an early music festival, which was to provide the inspiration for Adams in the years to follow: this was music performed with unbridled freedom, heart-on-sleeve emotion and sheer, joyous virtuosity – and these facets have now become the hallmarks of Adams' own style.        
Following an acclaimed debut in London's Wigmore Hall in 1985, and the release of his award-winning debut disc of Vivaldi's recorder concertos, Adams embarked on his mission to extend the recorder's repertoire and reputation, resulting in a series of ground-breaking London recitals and CD recordings – including first performances of forgotten 19th century Viennese recorder music, a revival of the important mid-20th century British recorder repertoire, and his own transcriptions for recorder and piano in the grand romantic style.     
Adams has commissioned a wealth of new music, including  David Bedford's heroic Recorder Concerto which he recorded for NMC Records with the BBC Symphony Orchestra.   This - and the rest of his extensive repertoire of baroque and modern recorder concertos - he has performed with orchestras around the world, including the Philharmonia, English Sinfonia, the BBC Concert Orchestra, the Academy of Ancient Music, the City of London Sinfonia the Hong Kong Chamber Orchestra and the Singapore Symphony Orchestra, in venues including the Royal Festival, Queen Elizabeth and Wigmore Halls, as well as in private concerts for HRH The Prince of Wales and the Duke of Edinburgh.       
In 1997 Adams founded his trailblazing baroque quartet Red Priest, which has since become the backbone of his performing career, and has brought the thrill of his music to audiences across the globe - with over 1000 concerts on four continents in some of the world's most prestigious festivals. The group has appeared many times on TV and radio – including hour long televised features for NHK (Japan) and LWT's The South Bank Show (UK) – and recorded seven discs on its own label (Red Priest Recordings), including the No.1 bestselling album The Baroque Bohemians (2017). 
In 2018 Adams completed a long term project with the release of Bach Side of the Moon - an innovative album with sound artist Larry Lush, merging baroque music with 21st century sounds in a beautiful meditation - which reached no.5 in the international New Age charts.
In between concerto appearances and tours with Red Priest, Adams performs and records with musicians across a wide range of genres. His current projects include Baroque Alchemy - a genre crossing adventure with keyboardist Lyndy Mayle combining the drama of baroque music with the universe of sounds afforded by modern synth technology - and entertaining recitals with Red Priest harpsichordist David Wright, with a focus on the Wild Men of the Baroque... as well as creating a brand new online teaching course called The Enlightened Recorder Player, playing on movie soundtracks, publishing sheet music arrangements, giving masterclasses, workshops and lectures, adjudicating international festivals and guest-presenting on BBC Radio 3.